Swiss Pro Ball -> 55cm/22" Swiss Pro Ball, plum
Swiss Pro Ball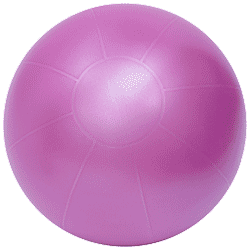 Name: Swiss Pro Ball

Model: 55cm/22" Swiss Pro Ball, plum

Model Description: This Swiss Pro Ball is the right size ball for people of a height between 4' 8" (145cm) and 5' 5" (165cm).
Weight Limit: 2200 lbs
TheraGuard™ Burst Proof Limit: 500 lbs


Product Description: A ball that gives the best results for your workout yet also benefits the planet.
Our toughest exercise ball is eco-friendly, free of phthalates, and latex maintaining the smallest environmental impact.



The Theragear Swiss Exercise Pro Ball features extra thick walls, constructed to perform with exceptional durability for your workout.
Offers maximum firmness and support.
If the ball is punctured it will deflate safely and slowly.

1 year warranty on manufacturing defect

Made in Taiwan

Pump is sold separately

Replacement plug for Theragear Swiss ball. Please email us at
How to Use an Exercise Ball As a Chair
Pros & Cons using a Swiss Exercise Ball as a Chair
How to Inflate the Swiss Pro Ball
Which size is right for me?