Dumbbell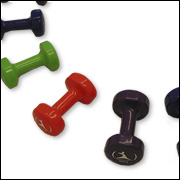 Dumbbell:
The most basic and effective way of weight training program is working out with dumbbells.
There are numerous advantages of utilizing dumbbells. For starters, it offers you the convenience from working out just about anywhere.
Next, dumbbells additionally provide you with a better range of motion compared to barbells as well as machines. Furthermore, dumbbell training is an excellent venue for the more experienced weight lifters seeking to increase bulk as well as for beginners wanting to firm up along with dropping some additional pounds.

The TheraGear™ vinyl covered dumbbells offer highly effective cross-training, encourage higher calorie burn... and improve cardiovascular fitness.
Dumbbells are offered as singles.



Attributes
Price

VD-01
Theragear® 1 lbs Vinyl Dumbbell, Yellow
$4.95


VD-02
Theragear® 2 lbs. Vinyl dumbbell, green
$5.49

VD-03
Theragear® 3 lbs. Vinyl dumbbell, red
$7.95


VD-04
Theragear® 4 lbs. Vinyl dumbbell, purple
$9.95


VD-05
Theragear® 5 lbs. Vinyl dumbbell, blue
$11.45


VD-06
Theragear® 6 lbs. Vinyl dumbbell, green
$12.95


VD-08
Theragear® 8 lbs. Vinyl dumbbell, purple
$17.95


VD-10
Theragear® 10 lbs. Vinyl dumbbell, black
$19.95


VD-15
Theragear® 15 lbs. Vinyl dumbbell, blue
$29.95