Ankle Tube -> Ankle Tube, light, yellow
Ankle Tube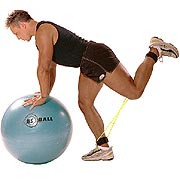 Name: Ankle Tube

Model: Ankle Tube, light, yellow

Model Description: The light Ankle Tube is recommended for rehabilitation, seniors or children who want to start an exercise program.

Product Description: The ultimate lower body training tool for improving balance and toning legs, hips, buttocks and more. Intensifies lateral and forward/backward movements. Adjustable ankle straps provide maximum comfort. Choose intensity by color.
Which resistance level should I use? Click Here