Latex-Free Tubing -> Latex Free Tension Band Workout Set
Latex-Free Tubing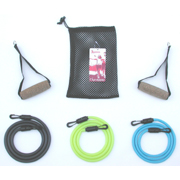 Name: Latex-Free Tubing

Model: Latex Free Tension Band Workout Set

Model Description:
Includes 3 resistance bands
1 light, sky blue (5lbs-9lbs),
1 medium, yellow (7lbs-11lbs),
1 strong, black (9lbs-13lbs)
Unique clipping system for attaching to cork handles
Bands are latex free, Made out of TPR
Travel Bag included

Product Description: Get total body fitness results using this Tension Band Workout Set from Theragear.
Featuring latex free & cork handled tension tubes, you'll get in better shape and be helping the environment by using renewable material. With three different resistance tubes to add increasing levels of intensity to your workout, our exclusive kit develops your strength, skill and energy levels, at home or on the road. The tubes interchange effortlessly into the cork handles. Unlike regular exercise bands, the unique clipping system allows users to adjust resistance levels from 5lbs to 13lbs and match the workout intensity to their own level of fitness.