Exercise Ball Accessories -> Mini Air Pump
Exercise Ball Accessories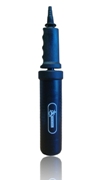 Name: Exercise Ball Accessories

Model: Mini Air Pump

Model Description: Compact, lightweight and compatible with all Swiss exercise balls. Easy-to-use design. The Mini air pump is a compact manual inflation pump that is durable, ultra-portable and easy to use. The universal valve fittings allow this inflation pump to inflate air mattresses, balls, inflatable boats, balloons and more!. This mini air pump inflates on both the out stroke and the in stroke for no wasted effort and faster inflation.



Product Description: TheraGear® offers Swiss Exercise Ball Pump as well as a Stabilizer and Stackers. For instructional books and videos visit the videos & books category in our store.