Yoga & Pilates -> Pilates Core Board 16"
Yoga & Pilates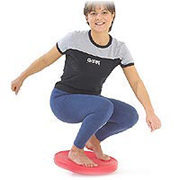 Name: Yoga & Pilates

Model: Pilates Core Board 16"

Model Description: The Pilates Core Board provides comfort and versatility for core training. Stand on the Pilates Core Board with one or two legs for balance training. Excellent for yoga, skiing, golf, martial arts, soccer and any other activity that requires good balance and lower body strength and agility. Simplistic design for balance and proprioceptive exercises. Unique design provides 360 degree of instability. Made out of hard durable plastic with non skid top. Use to strengthen muscles, ligaments and joints Develops Dynamic Balance, Stabilization And Proprioception Recommended for beginner and intermediate level users

Product Description: Yoga an ancient system of body & mind exercise that offers benefits in flexibility, greater strength and concentration. Pilates was created 90 years ago and was used by dancers. Now achieved worldwide acclaim from people who want lean well toned bodies.